Video shows a hot Brazilian chubby having anal sex with her husband's nephew in the middle of the kitchen. This Brazilian milf took advantage of her husband's absence and seduced the lucky guy.
Brazilian women are very hot and very open to sex, this is no secret. Much because of their way of being, they manage to leave many men with their mouths open, drooling over them. In this pornographic video we can see how the exuberant blonde Mia Linz with an ass to provoke a heart attack to any man, walks at home with very few clothes. This Brazilian MILF seems not to mind her husband's nephew visiting her, and he likes to see her with very few clothes. He's in this delicious woman's kitchen, the boy was eating something she had given him. After a few looks and a sexual tension that can be seen from a mile away, he approaches and touches her buttocks lightly with his hand.
Brazilian milf Mia Linz getting anal sex on all fours
She gets a little excited and starts seducing the boy. She accidentally spots herself while washing up and asks her nephew for help, he doesn't hesitate and with a cloth helps her dry her wet big tits. But she wants more, insists and seduces him more and more. The definitive moment is when she sprinkles milk on her breasts so that he starts to eat them.
At this point, they both show an impressive desire for sex. She's very happy to be able to enjoy a different cock from her husband. Then she doesn't think twice and kneels down in front of the boy to offer him a blowjob. But then the passion overflows and they start fucking as if there were no tomorrow, so much so that this stallion ends up cumming in the huge tits of this Brazilian milf.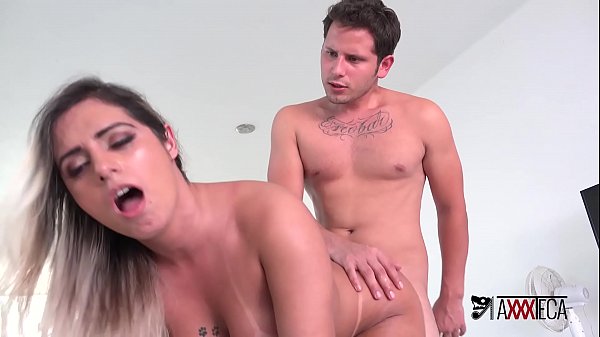 Brazilian Milf Mia Linz is fucked hard in the ass by her husband`s nephew
Date: February 3, 2020