It's been known that many girls tend to become uninhibited when they go out to celebrate their birthday. For that same reason, Anny Aurora and her friends decided to celebrate theirs with a simple slumber party at home. What the young lady doesn't know is that her friends are so bitchy that they have prepared a good surprise for her.
After long hours of conversation, the girls seem a bit bored. That's why they decide to get naked and start discovering themselves. One of them puts a mask on Anny Aurora's beautiful eyes so she won't discover her surprise present. The girl waits anxiously on her knees and in the meantime her friends pass her pussies and tits through her mouth so that it is hard for her to guess what is coming.
After a long time sucking tits and asses, Anny Aurora is already desperate for her mysterious present. So your friend Olivia puts a guy with a big dick in the room. Seeing that piece of penis, Olivia can't resist. She starts giving the guy a good blow job herself that makes her eyes roll. Her mission is none other than to make it hard for her friend.
Anny Aurora gets a hardcore fuck in your birthday
It's time for the birthday girl to discover her gift. The young man passes his dick through her sweet lips and the girl without hesitation opens her mouth a second to start sucking. Her friends stay away so that the birthday girl can enjoy her surprise.
Anny Aurora gets a hardcore fuck that exceeds all her partner's expectations. We are sure that none of the girls present will be able to easily forget this incredible slumber party.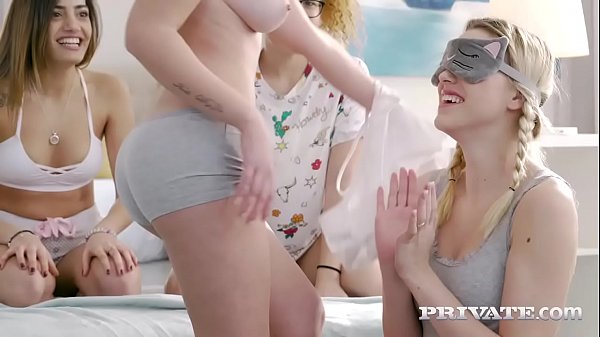 Date: March 20, 2020